Sunday 26th April
We took the metro straight down to the Opera House, and queued to get in. We spent the whole morning wandering around this amazing building - the proper name is the Palais Garnier.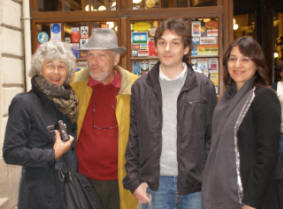 After a quick coffee we went back on the metro to meet Karen and family at Restaurant Chartier. An amazing institution. We had a nice meal, but the main thing was meeting the family, especially Benjamin's wife Shahrzad who we'd not met before. She was all you'd expect from a modern Iranian woman - good looking, charming, and trilingual (Farsi, French and English). Benjamin's English is still very good - when I offered to pay the restaurant bill he said "Don't even think about it!". A couple of hours went very quickly, and then we went for a stroll. They took us through some old shopping arcades and eventually to the Jardins Royal. Benjamin & Shahrzad set off for home after this, and we continued with Karen & Robert.
This was really enjoyable - Robert is very knowledgeable about central Paris, and he's also very funny with a dry sense of humour.
In the evening, after Karen & Robert had gone home, we went to see the Eiffel Tower light up. A great view watching from the Palais de Chaillot, but spoilt by continuous pestering from hawkers, and a great deal of noise from a protest meeting being held by Tamils. Ended up about 10pm having a pizza and a beer at an Italian restaurant near the hotel.